Can you recall the last time you booked accommodation via a phone or a newspaper ad?
I bet it was a while ago. The same goes for most tourists.
When booking accommodations, 69% of respondents noted that they seek convenience before everything else.
Online hotel booking systems provide convenience in searching, booking, and paying. The majority (88%) of adults in the USA prefer to book hotels online.
This has led to a growth of the global online hotel industry, reaching $570 billion in 2019.
The hotel industry has been hit hard in 2020. However, the industry is already slowly recovering. The hotel booking websites are experiencing twice as much traffic compared to winter 2020.
We will cover all points on how to create a hotel booking website like Booking. We'll tell about the types of booking systems, core features of booking services, and the best ways to create a hotel booking website and monetize it.
1. Hotel Booking Market
The travel industry is now valued for $1.6 trillion on a global scale.
Therefore, with more people being able to travel to the most distant places in the world, the travel industry now accounts for one-tenth of the world's Gross Domestic Product (GDP), an indicator reflecting the market value of all final goods and services.
The hotel industry has chipped in a lot towards the travel industry. In 2019 the number of hotels and resorts across the world was counted at 700 000.
The worldwide market volume for online hotel bookings is evaluated to exceed $174 million in 2022.
Note: If you have doubts about whether to create a hotel booking website or a mobile app first, here are some statistics: mobile conversion for travel bookings is just 0.7% vs. 2.4% for desktop bookings.
2. 2 Types of Online Hotel Booking Software
There are 2 main types of hotel booking websites: hotel websites with an integrated booking feature and hotel booking marketplaces.
If you don't know which one to choose for your type of business, here is what you should know.
Brand Hotel Booking Website for Independent or Chain Hotels
Today having a brand hotel booking website is a must-have both for independent hotel owners and for chain hotels.
Advantages of Creating a Booking Website for Hotels
By having an online hotel booking website you will be able to transfer your offline business online. This kind of digital transformation has touched all industries.
The online penetration for the travel industry, including the hotel market is 50%. Though even the other 50% tend to search for hotels online and then book accommodation via phone call or an email.
Have an additional selling channel
Naturally having a hotel website helps to sell more. Not only do websites attract a new audience, but also help to show off your hotel, your offering, your values, and your staff.
In order to post accommodation on third-party hotel booking marketplaces, it is usually required to pay service fees. These fees vary from platform to platform.
Attracting clients through your own hotel booking platform saves money at least by not paying any commission fees to third-parties.
Reducing booking misunderstandings
Using your own hotel booking website, you eliminate the chance of double bookings. Everything is centralized and structured in one system.
Hotel Booking Marketplace like Booking.com
Hotel booking marketplace or also called a hotel booking aggregator is a middleman between a hotel and a customer.
The main role of such platforms is to gather information about multiple hotels and provide customers with lots of options and to compare for better deals.
The most popular revenue model for this type of an online hotel reservation platform lies in charging a service fee from the payment transactions conducted on a marketplace.
Market Benefits of Hotel Booking Marketplaces
Hotel booking marketplaces have a large database of customers, unlike standalone hotels. It makes it easier for small- or mid-sized hotels to attract guests through hotel booking marketplaces than solely by their own websites.
Promotion of a hotel's brand website
Promotion in such systems is much easier and cheaper for hotel and property owners than through Google search. A hotel gets extra visibility by the means of a hotel booking marketplace and doesn't spend money on promoting its website with SEO.
N.B.: In fact, nowadays, there isn't really a choice between these types of hotel reservation software. Undoubtedly, a brand website is already a must-have for hotels.
There are different channels for promoting a brand website, such as:
optimizing it for key queries
promotion on reviewing websites like Tripadvisor
listing accommodations on hotel marketplaces, and online hotel reservation systems.
You might know that website promotion is not that easy, fast or cheap. Thus, for small, new, unknown hotels with limited promotion budgets, the hotel booking marketplaces become the core channel of attracting new guests.
3. Top Online Hotel Reservation Systems
Booking.com
Booking.com is the most popular hotel booking marketplace, available in 40 languages and more than 155,000 destinations. It was founded in 1996 in Amsterdam as a small Dutch startup.
Booking allows hotels, and hostels to post listing information on its website, for guests to book, and pay for a room or bed.
The hotel booking system Booking had 697 million visits to its website in July 2019. The revenue of Booking has increased a lot in recent years. From 2007 to 2019, it experienced steady growth. In 2019 the company generated $15.07 billion in revenue. If you compare it to 2007, then it is nearly a $14 million difference.
Agoda
Agoda is another online travel booking marketplace that offers online hotel booking services. It is available in 38 languages and has a network of over 2.5 million properties in over 200 countries and locations. The company is headquartered in Singapore and was founded in 2005. Just like Booking.com, Agoda is a sub-company of Booking Holdings Inc.
In 2017, Agoda was listed as the second-best hotel booking marketplaces by Frommer's travel guide book.
Agoda prefers to invest in technologies, as it is one of the main drivers for growth.
Damien Pfirsch, VP, Strategic Partnerships and Programs, Agoda, said, "We invest heavily in technology with the goal of making travel accessible to more people, whether it is through our platform or our partners."
In the last 6 months, Agoda had more than 32 million visits. Since the lockdown, the number of users decreased; however, Agoda has seen a traffic increase since May 2020.
Agoda's estimated annual revenue accounts for more than $1 billion.
Hotels.com
Hotels is an online booking marketplace for booking hotels. Founded even earlier than Booking.com in 1991, Hotels.com shows approximately the same number of user website visits as Agoda.
Hotels is available in 34 languages and lists over 325,000 hotels in nearly 19,000 locations. The Hotels.com site estimated annual revenue accounts for $200 million.
Trivago
Here is a slightly different type of platform for finding properties for rent – aggregators.
Trivago is an online hotel search website and an independent system that compares prices of different accommodations on booking websites worldwide. Trivago was founded in 2005 in Dusseldorf, Germany, and raised $55 million overall. It has access to around 1.3 million hotels in over 190 countries.
4. Main Features of a Hotel Booking System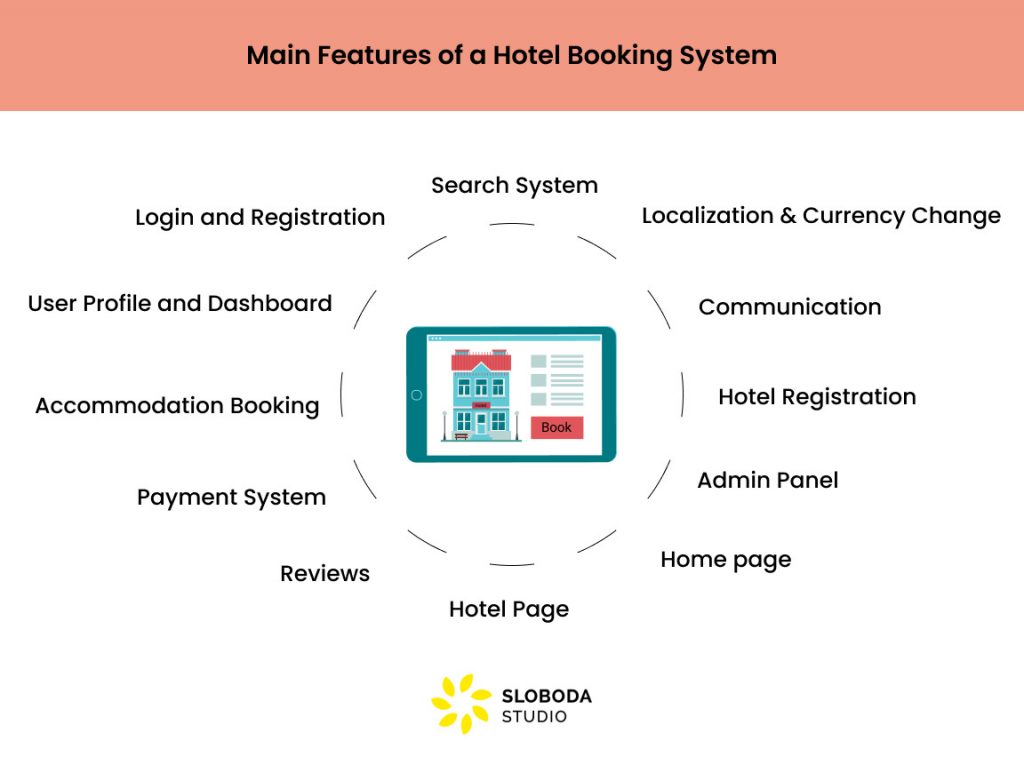 Home Page
A home page is usually the first page that users see. It provides introductory content to engage new customers.
It is recommended to locate a search system on the homepage since it is one of the most important features of booking websites. People come to booking websites for a versatile yet easy and fast choice.
Additionally, a home page can feature top locations and accommodations, places that were viewed during the previous session, and other recommendations.
Login and Registration
Usually, booking websites ask users to register before the payment process.
In order to sign up a user, your hotel booking platform can offer them simple signup with Google or Facebook or any other email. The same goes for login.
User Profile and Dashboard
A user profile stores information about the payment method, billing address, and general information about the user and his/her booking.
As soon as a user books a hotel, a user is able to view the information about their booking, payment, and has the ability to cancel within their dashboard.
In addition, a user can view messages or any notifications in their dashboard such as notifications about changes in booking details, reminders about an upcoming trip, or about the last booked day at the hotel.
If you decide to do some kind of a bonus system, as Booking.com does, then bonus notifications also will be shown in a user's dashboard.
Search System
This is an important step when drafting a plan on how to create an online hotel booking website.
We recommend starting a user's journey with simple search variables, such as place, date, number of people, and sometimes a type of accommodation. Then, you may offer additional search parameters.
Filtering and sorting help to cope with unorganized lists and give users some structure and order.
It is advisable to design your listings page in such a way that users will be able to sort and filter hotel listings. Booking.com offers filtering by:
User's budget
Star rating
Distance from the center
Availability
24-reception
Reservation policy
Meals
Property type
Number of beds
Bed types
Review score
Room facilities
These are not all the filters that Booking offers. Basically, in the first stage of your hotel reservation software. You should create a limited number of filtering and sorting. After you receive feedback from your audience, then proceed to add more features.
Sorting can be conducted by:
Price
Rate
Distance from the center
Top-rated listings
Website picks
On your listings page, you can also add breadcrumbs, a map view, and nearby places. A map view allows users to view hotels on a map, filter them, and have a quick view of the hotel and its price.
Hotel Page
The hotel listing page needs to have a full list of information on the hotel and its available rooms. This hotels descriptions include:
Hotel overview
Photos of the hotel and rooms
Hotel facilities
Room availability with prices, room description, and photos
Hotel rules
Customer reviews
Similar options to the selected hotel
Ability to add a hotel to the user's favorites
Ability to share a hotel on social media
Number of hotel stars
Map for knowing where the hotel is and what surrounds it
Accommodation Booking
Accommodation booking is a feature that allows guests to book accommodations online, such as hotels, hostels, motels, or others on a website.
For booking a room, a user should be able to:
Choose room type
Select a number of guests
View the room price and the number of guests it can contain
View additional options for each kind of room (e.g. cancellation policy, included/not included breakfast, prepayment needed or not).
After a user hits that booking button, they need to enter their personal information, such as:
First and Last Name
Email
Guest Name (in case of user books a room for somebody else)
Optional: some comments, planned arrival time
The next step after including personal information is payment information. Even if a user doesn't have to pay during the booking process, your travel booking marketplace for hotels still has to ask for payment information in case a user cancels a booking in the last minute. Doing this allows you to secure your marketplace and the hotel that you are working with.
Payment System
There are 2 core ways of paying for accommodation on a hotel booking marketplace:
Online payment. A guest books accommodation online and pays online right away.
On-premises payment. A guest books an accommodation on an online hotel booking website and indicates their payment information. Asking to state credit card information is done for a safety measure for the situations when guests do not cancel a booking and do not show up at hotels. Thus a booking system would be able to charge a guest for the accommodation.
Note: We recommend you make sure to ask users whether they want the website to remember the payment details and method for future booking convenience.
Usually, online hotel booking systems offer to pay either with a credit card or via PayPal. You can integrate the other payment providers, like Stripe for example instead of PayPal. It all depends on the countries you operate in.
Related: Stripe Pros & Cons: In-depth Review of a Payment Gateway
Reviews
The importance of reviews has grown bigger in the last several years.
For example, Yelp, a top system of ratings and reviews on restaurants, hotels, cafes, and others has seen a 12% increase in the number of reviews in the last year.
The reason for the growth in reviews is, first of all, a big variety of hotels that offer the same experience and service, and secondly, fraudulent activities that happen on the internet and in real life.
Reviews build trust and a sense of security and insurance. That is why you should focus your attention on this aspect and get as many reviews as possible.
In 2020, 72% of customers won't move on to take action on selection until they read reviews.
In fact, 91% of millennials trust product and service reviews as if they were advised by their relatives
Users see reviews when they click on the hotel page. There, they can view the number of positive and negative reviews, filter reviews by score, and recent activity. In addition, you can create a hotel's rating system on the listings page for users. This can be achieved by users' filtering and sorting abilities. Show the top hotels in terms of reviews first on the listing page by default is recommended.
Localization and Currency Change
When thinking of how to set up a hotel booking website internationally, we recommend you to enable your platform for a variety of languages and currencies. The most popular travel booking marketplace offers over 40 currencies and 30 languages.
Note: Localization requires additional spending. Therefore, you need to first determine the main target countries of tourists and start with optimizing for those languages.
Plus, you need to take into account whether there are only one or multiple languages spoken in the country.
Communication
A communication channel is an important feature to implement when outlining a development plan on how to make a hotel booking website.
This feature should be found in a user's dashboard. With this feature, users are able to communicate with your marketplace, or with the hotel.
However, all messages should be moderated by the admin in order to avoid any customer leakage that may happen when a hotel offers lower prices on their website.
Hotel Registration
Hotel registration is more complicated than a simple client registration. Booking marketplaces demand such information as hotel's general information, like a location and name, type of properties listed, amenities and facilities that a hotel offers, cancellation, and payment options.
When thinking of how to create a hotel booking system from scratch, we advise you to look at the Booking.com hotel registration process.
Such a registration comprises the following 13 steps:
First off, a hotel company chooses a type of property it wants to list. If your booking system only deals with hotels, then this step can be omitted.
Next, a user chooses a property category.
Then a user selects how many hotels they are going to list.
Confirmation window appears.
After that, your website needs to make sure that this property is not listed on any other website. Thus you would have a market advantage. In case a hotel room is listed on another website, you will at least know about it.
What a user does next is enters the hotel's name, contact information, and property location.
Then a user adds rooms that they want to list on a website.
After that comes a general room description and room price.
The following step consists of including any facilities or additional services that a hotel offers.
Then a hotel owner or manager covers the information on any other extra amenities or bed options.
A user loads photos of the property.
Adding information about the cancellation policy, check-ins, and check-outs.
Processing to the payment options.
Admin Panel
An admin panel is designed to manage the overall marketplace. Company managers oversee payment transactions and other activities as well as requests that happen on your hotel booking platform.
5. How to Create a Hotel Booking Website Like Booking.com
If you want to create a booking website like Booking.com, custom development should be your number one choice.
Custom Development
Custom development is software development, in this case, a hotel reservation software that is built from scratch.
Pros of Custom Development:
If you are planning to create a booking website like Booking.com, you should have features that distinguish your website from your competitors. This only can be achieved by a custom approach. Creating a booking website from scratch gives you flexibility in features and overall web architecture.
Expanding your feature set after getting initial traction and after your business starts to grow is important. Custom development gives you the ability to do so.
Cons of Custom Development:
Creating a booking website for hotels from scratch takes a lot of resources, including money. It is costly to build a custom hotel booking platform, however, we advise you to start with building a Minimum Viable Product (MVP).
This will save you some time and money and you will get to see how your target audience reacts to your product.
It is true that it is a long process of building a fully-featured hotel booking website, actually, it can take a few years, depending on your financial abilities.
However, starting with an MVP would be quite a good idea if you are looking to launch faster. Compared to a fully-featured product, an MVP development can take up to 3-4 months.
6. How to Monetize a Hotel Booking System
Now that we have covered how to create a hotel booking system, it is time to talk about monetizing it.
There are 2 main monetization models for a hotel booking website:
Service Fee
A hotel booking marketplace can charge a commission fee, either from guests or hotels. Booking.com, for example, charges a fee from hotels that were booked by users. The commission fee varies from 10-30%. Airbnb charges hosts 3% and guests up to 14.2% from every payment transaction. Agoda charges hotels from 5-10%, Travel Guru charges up to 15%.
Advertizing
Usually, advertising is the second model used on hotel reservation platforms. Your marketplace can either advertise hotels and rank them higher in the list or advertise other services like car renting, travel tickets, and others.
Our Expertise
Home Fit Out
Home Fit Out is an online platform that provide home furnishing solutions in Canada. User pick a pre-designed room, create their custom furniture layout online and have the firnure delivered and installed in one day.
Sloboda Studio helped to optimize and redesign the admin dashboard. This siplifies and speeds up the work of a website and a team of Home Fit Out.
Final Words
The global hotel industry is blooming and was valued $570 billion in 2019. In today's competitive market, having only a website is not enough for most hotels.
We can safely say that an absolute majority of hotels and other tourist accommodations need to use third-party booking marketplaces. Hotels need additional promotion channels.
But online booking systems are not just a major way of promoting accommodations, but also an alluring startup idea.
Clearly, monetizing your hotel business will be one of your top priorities, and there are 2 primary ways to do it: charge a service fee, and or monetize a marketplace via advertising partnerships.
If you consider creating a booking website for hotels, custom development is your way into the online hotel industry in case you plan a long term project with unique functionality and the potential for scalability.
Sloboda Studio has been building software for the real estate industry for 5 years and has been in the web development market for 10 years.
If you have any questions regarding the details of the process of development creating a booking website for hotels, just click the button below.