Dirty socks, unwashed dishes and food leftovers.
Some may see it as a horror movie, however, some entrepreneurs see it as an opportunity.
Helpling has raised $95M and has $21M of the estimated annual revenue. The other online cleaning platform Housekeep raised $1M having $6M of annual revenue.
So, there is a big chance that under the pile of dirty laundry, you might find your big fortune.
After creating a Detailed Guide on Building an Online Marketplace, we are moving to the niche-oriented guides on marketplace development. This is the second article in the series after the manual on creating a Clarify.fm-like online platform.
Business Model of an Online Marketplace For Cleaning Services
A cleaning marketplace is an online platform that connects service suppliers – cleaners with customers.
When starting an online cleaning business, there are still several choices for you to make. And probably, the first one of them is to choose the type of your future marketplace.
Types of Online Cleaning Marketplaces
Vertical and Horizontal Сleaning Marketplaces
Vertical platforms: Marketplaces purely for online house cleaning services
Nowadays everybody is talking about finding your niche, going niche, and the narrower the better. Of course, it depends. But the truth remains – a niche marketplace is a great option for those who are just starting out with a marketplace business. Later on, you can add even more services and spread your roots.
Examples: Matic, PlusstidHome, Whizz, Housekeep, MyClean, Book a Tiger.
Horizontal platforms: Marketplaces for various home services
Surely, such a kind of platform has a much bigger pool of potential customers and service providers. The downside is that there is a very competitive market. On the other hand, you can always start locally.
Examples: Helpling, Thumbtack, TaskRabbit, Handy, UrbanYou.
Managed and Unmanaged Cleaning Marketplaces
Managed or Commoditized – a marketplace that has a pool of trusted cleaners ready to offer their services on your platform.
A managed marketplace needs to provide enough value for them to keep using your platform. One of the ways to achieve that is to offer them a 100% money-back guarantee whenever possible and even if a customer cancels his request for cleaning.
Examples: PlusstidHome, Book a Tiger.
Freelance/Non-Commoditized – a marketplace where businesses can find independent contractors to do some work for them. Non-Commoditized means that your platform is not responsible for any cancellations. Thus you are not obliged to pay cleaners when customers cancel their bookings.
Usually, this kind of marketplace allows users to view cleaners' profiles and communicate with them via a platform. Unmanaged marketplaces have a higher risk of leakage. This can be avoided by showing low, middle, and high prices, so customers will have the ability to choose.
Examples: Thumbtack, Helpling.
Advantages of Cleaning Marketplace
For Founders
An online marketplace business is attractive for investors and is a great source of income. For instance, Book a Tiger, a Berlin-based cleaning platform, has $12M of annual estimated revenue. Housekeep has raised $1M and now it has $6M in estimated revenue annually. Helpling has raised $95M and now it has $21M of annual estimated revenue.
For Cleaners
Not only do marketplaces create job opportunities, but they also provide a safe working environment. Besides, on the online cleaning marketplaces, cleaners don't pay such a big percentage as they would pay cleaning agencies.
For Customers
Marketplaces make it easier for customers to search for cleaners online and book them in the fastest way possible. Cleaners are just one click away. In addition, it's not easy to let people in your home. That is why solid cleaning marketplaces inspire much more trust than freelance cleaners.
Let's Talk Money. Monetization Models of Cleaning Marketplaces
One of the most important things that should be decided at the initial stage of a marketplace creation is a monetization model.
There are two basic questions:
Who to charge? Which revenue model to use?
Top marketplace revenue models for cleaning marketplaces:
Commission Model
The commission model is the MOST popular among the ways of monetizing a cleaning marketplace. This monetization model stands for charging a fixed fee or percentage from every transaction made through the marketplace.
There are 2 approaches within a commission model:
1) Charging clients a fixed fee (Helpling – 1,50 pounds, Handy – $3 ).
2) Charging cleaners a percentage for every transaction. Plusstid Home – 20% of the total cleaning price. TaskRabbit – 15% of the total price paid for the task.
Lead Fee
Within such a monetization model, a cleaner pays for every matching with a customer. The lead fee model is used at Thumbtack, an online marketplace that connects local professionals with customers.
At Thumbtack, there are 2 types of leads: exact and partial leads.
With exact leads, cleaners pay automatically for leads that match their preferences, whether they reply or not. Plus, cleaners get a 20% discount for each exact match lead. With partial leads, cleaners pay only if they accept the job, and there are no discounts, a full price for the lead must be paid.
Featured Listings and Ads
This revenue model can be a great alternative to the ones above since neither customers nor cleaners are obliged to pay the platform fees.
Such marketplaces make money on additional ads: allowing cleaners to advertise their profiles in order for them to get more orders.
Name Your Price/Pricing
A cleaning company website has to estimate the required time for the cleaning. Usually, cleaning marketplaces indicate that a cleaner must be booked for at least two hours or longer depending on the kind of cleanable accommodation.
Generally, an online marketplace for cleaning services sets hourly prices and charges their fees per hour of cleaning.
Setting Prices on the Cleaning Marketplace
1) Equal rates: all the cleaners on the marketplace charge the same cleaning price for the same services.
Examples: PlusstidHome, Whizz, Matic, HouseKeep, UrbanYou.
2) Customized rates: cleaners are able to independently set the prices for their cleaning services
Examples: Helpling, Thumbtack, TaskRabbit.
Charging For Extra Cleaning Services
Your platform may also charge for extra work. Usually, extras last half an hour.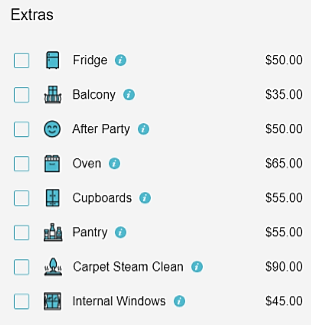 Whizz
Extras can be:
oven, fridge and window cleaning
inside cabinets cleaning
laundry wash and dry
Main Features of an Online Cleaning Marketplace
We have analyzed the most popular cleaning marketplaces on the market and have gathered the main features that every Uber for cleaning has. Read below how to start a cleaning business and what features every cleaning marketplace has.
Registration
User Registration
User's registration flow is quite simple. Users can register:
before booking
before paying (used on Whizz, Helpling, TaskRabbit, Helpling).
An alternative choice: sometimes cleaning marketplaces don't ask for registration since users put in all the necessary personal information during the booking. We can see such a flow on marketplaces like Book a Tiger, Handy, UrbanYou.
Though, it may not be the most convenient and safest choice.
Why?
Not safe: This kind of a marketplace can't inspire enough trust as they don't validate their users properly.
Not convenient: No registration equals no personal account on the platform. And that may not be the most convenient flow as, after the traditional registration process, each user has a dashboard where they can find any necessary information on their order.
With no registration required, it is unclear how the customer is going to check the cleaning status, for example.
Cleaner Registration
The registration process for the cleaner is much more complicated since the platform needs to validate and verify them.
Again, it's not that easy to let somebody into your house.
Identity Verification
If you want to present your marketplace as a safe platform, then you need to ask cleaners for:
VAT identification number
Certificate of public liability insurance
Photo of an ID or a passport
Police check
Any social media account
Skills Verification
There are two basic ways of verifying cleaning skills:
Pre-screening: asking cleaners to clean a room before fully registering them on the platform.
Examples: PlusstidHome (managed cleaning marketplace).
On-site quality assurance: evaluating cleaners' work after their first clean.
Example: Whizz.
Some platforms do not require initial skills verification, though they have an advanced review and feedback system that helps customers evaluate cleaners skills afterwards.
Note: One of the important things during a registration process is to give cleaners an idea of how much their service may cost. If you don't do it, there is a big chance that cleaners would leave as they wouldn't know their potential income.
Helpling
TaskRabbit
Search and Matching With Cleaners
The search and matching system is one of the main features of any online marketplace.
The most important search parameter is a postcode. Every search for a cleaning business website starts with a user entering a postcode.
Housekeep
Helpling
After matching by location, a platform gives a user more advanced search parameters:
Number of rooms
Hours needed for cleaning
Location
Time and date
Cleaning frequency: just once, weekly, every 2 weeks, every 4 weeks, monthly
Extras
Special requirement: pets, ironing
In addition, there may be an option of choosing a type of accommodation cleaning.
For example, Handy distinguishes home, office and vacation rental cleaning.
Whereas Whizz offers Residential, End of Lease, Commercial / Business, Short Term Accommodation/ Holiday Rentals Cleaning.
Urbanyou also breaks down the types to simple cleaning, spring cleaning and end of lease cleaning.
After a user fills in all the necessary info, a platform matches a customer with a cleaner.
Matching Cleaners With Customers
The platform automatically matches cleaners with clients according to their search parameters.
Consequently, all cleaners must indicate their working hours in a built-in calendar, otherwise, a platform won't be able to find any cleaners.
If there is no cleaner available, a notification should be sent to the customer.
Automatic matching prevails in managed marketplaces. Here cleaners' rates are equal and their profiles are not visible to customers.
A cleaner has the ability to accept or decline a job. If everyone has declined an invitation for cleaning, then a notification is sent to an admin. The admin views a capacity of cleaners and contacts them manually in order for someone to do the job.
Examples: PlusstidHome, Whizz, HouseKeep.
With the manual matching, the customer gets a list of cleaners according to the applied filters.
Besides, customers are also given filtering and sorting opt