How to start a real estate crowdfunding business?
Before we start answering this question, let's check some statistics. In 2019 it was predicted that the real estate industry will reach a value of nearly $7227.13 billion by 2022.
There's a reason for that. There was a 2.5X growth in demand in passive income over the last 5 years. And investing in real estate is a core time-tested source of getting passive earnings.
Real estate crowdfunding platforms made real estate investments widely available and affected the market growth.
Analyzing the tendencies, we can see that creating a real estate platform is one of the most alluring business ideas in 2021-2022. We share some interesting stats on it below.
What core features should you include and what platform development method should you choose? Read on and you'll find it all out.
How to Start a Real Estate Crowdfunding Platform
There are 2 main ways to create a real estate crowdfunding platform. You either develop your custom platform from scratch or use a ready-made standard solution.
Custom Development
Custom development means building a real estate crowdfunding platform from scratch. Typically, custom development is a rather long-term project. It requires taking a lot of steps during the development process.
Choose custom development for a real estate crowdfunding platform if you want to:
raise investments to build a long-term project
have a high-quality product
build unique features
be in control of your project
easily integrate with external APIs and services
get a scalable platform that will be able to expand further
build custom UX that will meet your target audience's needs
Want to build a real estate crowdfunding platform?
Email Us
SaaS
Software as a Service (SaaS) is a service subscription that provides ready-made software – in your case, real estate crowdfunding software. SaaS usually offers a limited set of features, or sometimes doesn't even have the functionality to add more features. So, if you want to add some, you'll have to hire a developer to build it for you.
Choose SaaS for a real estate crowdfunding platform if you want to:
test your idea
have a quick and simple solution
stay within a very limited budget
launch a real estate crowdfunding platform as soon as possible
Top Real Estate Accredited and Non-Accredited Crowdfunding Platforms
Fundrise
Fundrise is a Washington-based real estate crowdfunding platform. It allows investors to search some real estate opportunities based on their investment preferences. On Fundrise, investors can:
manage and track their real estate investments online
receive regular financial reports.
Fundrise was founded in 2010 and attracted around $55.5M of investments in 7 rounds of fundraising.
As a monetization model, Fundrise chose to charge accredited investors a service and asset management fee of between 0.3% and 0.5% of the invested capital amount annually. Additionally, Fundrise charges a one-time 1% to 2% origination fee and a $5,000 due diligence and closing cost, no matter whether the project is approved or not.
For submitting a project for raising funds, Fundrise examines every project by following a rigorous due diligence process. Roughly, less than 1% are approved.
What's interesting about Fundrise is that it pre-funds projects with its own capital before offering them to investors.
Fundrise is the most visited real estate crowdfunding site from our list. It gets over 556,000 visits monthly. The highest point in the number of visits was in January; after that, there was a slight decrease in visitors (probably due to the pandemic).
Prodigy Network
Prodigy Network is a New York-based real estate crowdfunding platform founded in 2003. It operates in Colombia and Manhattan. Similarly to Fundrise, Prodigy Network offers investors a list of real estate projects, financial statements, and market reports.
The company funded one of the biggest projects in the real estate crowdfunding industry. It was the BD Bacatá, a skyscraper crowdfunded with $170 million.
Prodigy Network crowdfunded over $300 million from 6,200 investors.
Realty Mogul
Founded in 2012, Realty Mogul is a Los Angeles-based real estate crowdfunding site that fundraised approximately $45.1M. The website connects accredited investors with property developers.
Realty Mogul has crowdfunded over $200M and has 80,000 accredited investors registered on their website.
The platform is only designed for accredited investors. It has 2 possibilities of real estate investments for accredited investors, namely equity and debt.
The minimum investment amount is $5000 with a yield of 6-24%.
As for daily traffic, RealtyMogul has had relatively steady growth for the past 6 months. There was a slight drop in March, but the number of accredited visitors is coming back to the same number as in February.
CrowdStreet
CrowdStreet is a commercial real estate platform that provides online commercial real estate investment offerings for investors. Founded in 2013, CrowdStreet raised $24.9M in 4 rounds of funding.
The company crowdfunded over $1B in total online investments and has around 80,000 investors. Since the launch, investors who have invested on CrowdStreet have received over $100 million in returns.
On CrowdStreet, the minimum investment amount is $25,000. The invest period is 3-7 years with a yield of 10-20% per year.
Cadre
Cadre is a real estate investment platform in crowdfunding that matches operators of real estate with investors. Based in New York, it raised $133.3M in just 6 years.
As for Cadre's way of monetizing its platform, it charges recurring management fees versus one-time transaction fees.
The 7 Core Features for Investors on a Real Estate Crowdfunding Platform
We have analysed the top real estate platforms and have gathered the 7 core features that every real estate crowdfunding platform should have.
Plus, we'll share the peculiarities of those must-have features of real estate crowdfunding platforms.
Registration
Real estate crowdfunding platforms usually allow both investors and property developers to register.
However, there are some crowdfunding platforms like Fundrise, for example, that only allow investors to register.
You can make a registration process as complex as you wish. There are 2 possible scenarios:
Complex registration process, like Fundrise and Realty Mogul, did but a relatively easy invest process
Quick registration, but a very thorough investment submission, like Prodigy Network and CrowdStreet did.
A step-by-step complex registration process:
Selecting an account level, depending on the investor's competence.
Choosing an invest plan.
Entering first and last name, email, password, and agreeing to the platform's terms and conditions.
Confirming the country of citizenship.
Picking an account type.
Indicating contact information and tax reporting information.
Choosing the desired amount to invest.
Selecting a source of funds.
Linking a bank account.
Agreeing to all terms and conditions.
Reviewing the stated information and finishing the registration process.
By creating a quick registration process, you can provide users with the ability to:
register via Facebook, Google, or LinkedIn, or
ask them to include their first and last name, country, email, and telephone number.
It is also important to include a checkbox to agree the companies' terms and conditions for either type of registration. After registering a user on the platform, send a confirmation email.
Moreover, most online real estate platforms in crowdfunding have a disclaimer during the registration process.
Login
Usually, a login is made for granting platform access to already registered users. You can either offer them to log in with:
a preferred social media account
their email and password.
Authentication
Authentication is a process of recognizing a user's identity
For security reasons, we recommend you offer a two-factor authentication process.
Fundrise, for instance, provides an investor with a security code and requests them to enter the code in addition to their password every time they log in to their own account.
Moreover, Fundrise notifies by email and text message when a login is detected from a new device.
Authorization is a process of verifying the users' permissions in operating the platform. An authorization process is carried out with the help of social networks, such as Facebook, Google, or LinkedIn.
Investor's Dashboard
The investor's dashboard is the feature that helps to invest and to get information and see how much they have earned and invested.
The investor's dashboard should include:
Total earned to date
Date of becoming an investor on the platform
Earnings (dividends, appreciation, advisory fees)
Total amount of active projects
Investments overview – active and past
Search
Lots of crowdfunding real estate platforms allow a user to search for real estate investment opportunities only after the user is registered.
Usually, investors can search by name, country, city, or property developer.
Property Listings
A property listing is a list of registered properties with the necessary information included by a property developer who is seeking what to invest.
Such lists show the number of active and completed projects. Investors should be able to view listings either as a list, grid, or on a map.
Each listing on a page should have:
Short description of the real estate
Photo
Location
Name of the property developer
Platform's rating
Projected return
Estimated holding period
Ability to add the project to favorites
If you have a lot of listings, then sorting and filtering will be a great help to the users.
Common parameters for sorting:
Risk rating
Equity assets first
Recently acquired
Debt assets first
Recently posted
Investment high to low
The most common filters are selected by:
City
State
Zip
Returns
Deal terms
Offerings
Sponsors
Eligibility
Furthermore, a property listing page can offer sponsors the ability to download listings in an Excel table. And you can also introduce tags for each property listing.
Property Page
The real estate page is a page that should be visually appealing and, most importantly, easy to navigate.
Some major features a real estate page should have:
Photo/map
Location
Property developer
Description
About the building, building plan
Some key factors – rating, total commitment, status projected return
Graphic of risk-adjusted return
Market analysis
Capital stack
Project timeline (when a property was acquired, updated, etc.)
Investing Process
The crowdfunding real estate investing process should be quite detailed and comprehensive, and should include:
Who is investing – individual or entity
Investor's personal information
Agreements, acknowledgments, and signature
Review of the information stated before
In order to confirm the information, an investor needs to send the first page of their bank statement, showing their account number and the name of the account holder.
Application Form
Not all crowdfunding sites for real estate have a submission form for property developers (sponsors). The reason why is that they usually get in touch with companies directly.
If you would like to implement an application form make sure to include:
Company information
The total value of the real estate
Company's regional focus
Type of equity a sponsor should have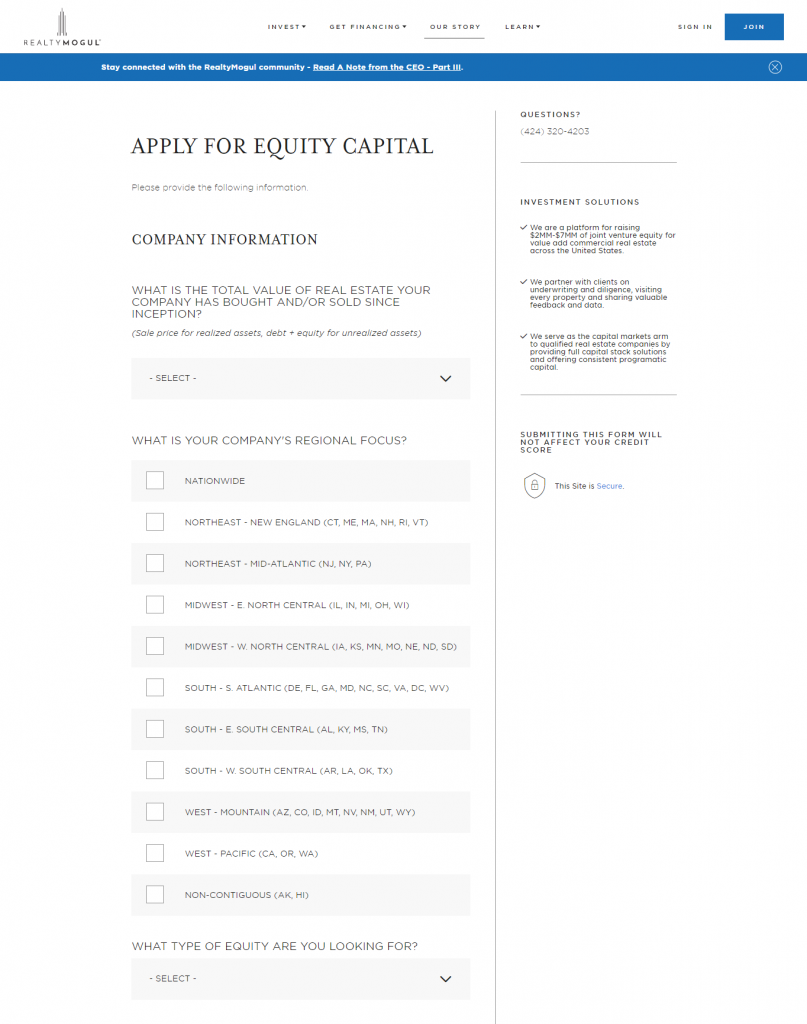 Transaction information
Business purpose of the equity financing request
Asset type of transaction
Amount of equity to raise
Expected cash-on-cash return
Expected investor level IRR of the project
Property address
Contact information
First and last name
Company name and website
Email
Phone
Real Estate Crowdfunding Market
The Real estate crowdfunding market is forecasted to account for approximately $868,982 million by 2027. This means that in the upcoming years there will be some major real estate investments happening and the market will have enough space for new platforms.
According to Crowdfund Capital, in 2006 there were over 125 real estate crowdfunding platforms. Today you can already find over 30 000 companies dealing with real estate investments and crowdfunding all over the world.
Statistics of the Real Estate Crowdfunding Market
There has also been an increase in interest in real estate crowdfunding and how it helps people to get a passive income. Since September 2013 the search for crowdfunding platforms in Google Search has been growing very rapidly.
Around that time the trend for passive income also started growing rapidly.
Even more interesting is that investments in the real estate market have increased enormously since 2013. This all can be explained by the fact that, in 2012, crowdfunding became available not only for big but also for small businesses, thanks to the JOBS Act.
And, no wonder, since 1971, the average annual return from Real Estate Investment Trusts, or REITs, is 9.72%. Mainly, since 2000, real estate has returned 10.71% annually, while the stock market has returned 5.43%. In 2019, global commercial real estate investment reached $800 billion.
An elevation in investments in specific regions has also been spotted. The Asia Pacific has seen an increase in investment since 2015, in 2019 it reached $169 billion. In the USA the volumes climbed by 12% to $347 billion.
According to the Investor, Sean Coghlan, Head of Global Capital Markets Research at JLL: "Global investment is expected to stay elevated throughout 2020 as allocations to real estate from institutional investors continue to rise and, despite valuations and significant competition, the sector remains attractive relative to other major asset classes."
Going to build a real estate crowdfunding platform?
Contact Us
What is Real Estate Crowdfunding?
Real estate crowdfunding is the practice of financing a project by raising funds from multiple accredited and non-accredited investors.
On one hand, crowdfunding is great in a sense because it allows companies to even raise funds at all, and they can do it more easily. On the other hand, investors are able to become shareholders without spending much or buying a property to get a return.
History of Real Estate Crowdfunding
The concept of crowdfunding was first referred to in an article in 2006 in Wired magazine by Jeff Howe. However, real estate crowdfunding had started to be noticeable and used in 2012 with the Jumpstart Our Business Startup Act (JOBS Act).
It is a law that allows small business startups to participate in crowdfunding in the USA and has been growing and developing quite rapidly. However, it is thought that real estate crowdfunding is still in its infancy and is yet to expand.
Real estate crowdfunding emerged due to the 2008 economic crises when the global economy had some major setbacks. It was decided then that crowdfunding in the real estate industry may change the situation in the USA since it was known that small-sized businesses have always driven the American economy and funding them may help the economy to regain its strength.
The crowdfunding model dates back to 1997, when the rock band Marillion was looking for sponsors to finance a tour after their album release.
Real estate crowdfunding can be either equity- or lending-based. On equity-based real estate crowdfunding platforms, accredited investors collect an equity stake when they finance a project in residential or commercial properties. Returns are a share of the rental income generated by the property or of their capital gains. Investors typically receive payouts once every quarter.
On landing-based real estate crowdfunding platforms, accredited and non-accredited investors invest in the mortgage loan associated with a property. Loans are repaid either every month or every quarter with interest, giving a percentage to each investor taking part in the deal.
Conclusion
To sum up, the real estate crowdfunding industry is a rather new industry that has years to come before it fully blossoms. Nevertheless, there are already some major players in the field that have already crowdfunded millions of dollars for some big real estate investments.
One of the biggest choices when considering creating a real estate crowdfunding platform is its functionality and development approach. There are 2 main ways to know how to start a real estate crowdfunding platform: custom development, and SaaS.
One of our company's core domain focuses is real estate. We've built numerous software for real estate businesses. The next could be yours!
Frequently Asked Questions
How do real estate crowdfunding companies make money?
To monetize, the real estate crowdfunding companies charge fees, including recurring management fees, one-time transaction fees, service fees, and asset management fees.
What are the advantages and disadvantages of crowdfunding?
Crowdfunding advantages include the ability for businesses to grow as they get fundraised, to receive more loyalty and exposure, build the community, find the first customers, and pitch the product more easily. At the same time, disadvantages comprise information disclosure, risk of public failure, commissions, and limits to only $1M per year.